The Latest
Mr. Music Box Man


Canada's Music Box Dancer turns 70!
The composer who brought the world the multi-million selling and award winning composition "Music Box Dancer", will celebrate his 70th birthday tomorrow, June 27th.
Frank Mills began his music career as the piano player for "The Bells", before embarking on the solo career that brought him acclaim. Over the course of his career he released 28 albums, but none could eclipse the success of "Music Box Dancer". The unmistakable tune went to #1 in 26 countries and appeared on no less than 24 different Gold certified albums.
In 2000, Mills decided to retire, dividing his time between Montreal, Stowe Vermont and the Caribbean. In 2010, at the request of Rita MacNeil, Mills stepped back on the stage to join Rita for her Christmas tour. The concerts and the collaborative CD proved to be a hit with both their fans and Frank will once again join Rita for a Christmas tour this year – currently slated for the Maritimes and west to Ontario.
Mill's catalogue of CD's, DVD's and printed music continue to sell worldwide through his website along with a humorous book, "My Travels with Morley" – a real life account of the boating adventures, of Frank, a small group of friends and a very special character named Morley.
Frank Mills was born in Toronto, raised in Verdun Quebec and began playing the piano at the age of three.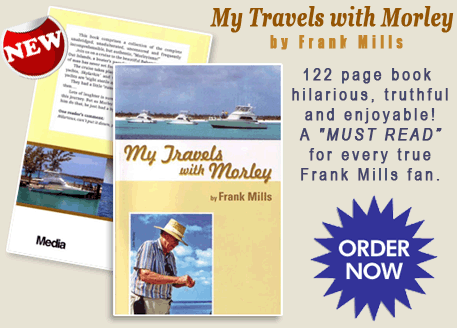 Get to know the personal and playful side of the songwriter/piano player as he cruises the Bahamas with his jolly group of friends.
"My Travels with Morley" reads as easy and with as much enjoyment as listening to one of Frank's musical compositions. The book comprises a collection of the complete unabridged, unadulterated, uncensored and frequently incomprehensible, but authentic, "Morleyisms!": tangled expressions and statements that would make Archie Bunker and Yogi Bera take a back seat!
Join Frank Mills as he gives a true account of his journey with "the boys" on a cruise to the beautiful Bahamian southeast Out Islands, a boater's paradise! A place "where the hand of man has never set foot!"
The cruise takes place aboard two Bahamian sportfish yachts, Skylarklin'and Frank's Cay (pronounced key) of Sea. Travelling on these yachts are "eight sterile men" (a typical Morleyism!")
Lots of laughter is sure to be a companion throughout this journey. But as Morley might say – and did: "Don't let him do that, he just had a hysterectomy!"
Get set for an enjoyable read with more than a few chuckles. Join Frank on his travels with Morley and the remaining "six sterile men."